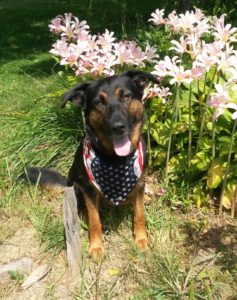 Update 5/27/23:  Dogs About Town will be offered on alternate Saturdays, beginning June 10th, at 9:00 a.m. See the Dates and Registration Info page (scroll down on the page) for more details.
The next session of training will begin soon!  KCFA will offer Puppy Kindergarten on Tuesdays at 6:30 p.m., and Basic Skills and Everyday Manners at 5:30 p.m., also on Tuesdays.  Both classes will begin on Tuesday, June 6. [Basic Skills is full as of 5/19/23.]
Classes will be held at the Humane Society of Jefferson County (HSJC), utilizing both the Community Education Room and the large fenced outdoor exercise yard.   Participants are advised to dress appropriately for the weather, including footwear for the out-of-doors.  The HSJC  is located at W6127 Kiesling Road, Jefferson, WI.
Class sizes are limited and preregistration is required, so don't delay!  Visit our Registration Info page for more details and the required registration forms.  Course descriptions are available here.