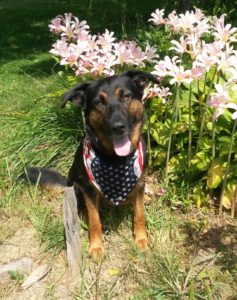 We've enjoyed some glorious weather during KCFA's outdoor training classes this fall!  Unfortunately, the current rate of COVID-19 has led us to continue suspension of indoor training classes, and with colder weather just around the corner,  we're unable to hold classes outdoors again until spring.    However, we are excited to announce that KCFA will be offering its first virtual training class!
KCFA will offer a virtual class in Basic Skills and Everyday Manners on Monday evenings at 6:30, beginning November 9th.  The class will meet virtually for six weeks, with the final class on Monday, December 14.  The cost will be $50.  To provide maximum personal interaction, participation will be limited to six students.
Each human-dog team will need access to a computer, tablet, or smartphone with a camera and microphone to allow two-way communication with the instructor.  The class will utilize Zoom, which can be downloaded for free. (Further instructions will be emailed to class registrants.)
For more details about Basic Skills and Everyday Manners, visit our Training Course Descriptions page .  To register, download and complete the General Agreement and the Training Class Application from the Training Dates and Registration page. (Scroll down on that page to find the links to the forms.) No vaccination records will be required for this virtual class.
Mail completed forms and the $50 class fee to: Attn: Training Committee; The Kennel Club of Fort Atkinson, Inc. (KCFA); P.O. Box 205; Fort Atkinson, WI 53538.
The class will be filled on a first come, first served basis, so don't delay – sign up today!