K9 Veterans Day Observance
The 2019 K9 Veterans Day observance will be Sunday, March 10.  Please visit our K9 Veterans Day page for details.
Fun Match
The Kennel Club of Fort Atkinson is holding its 25th Annual Spring Fun Match on Saturday, April 27th, at the Western Waukesha County Dog Training Club in Ixonia, Wisconsin.  The Match will be conducted according to AKC rules and regulations, including the new AKC Obedience Regulations which went into effect May 1, 2018.
Not only does the annual KCFA Spring Fun Match allow handlers a chance to "tune up" in the show ring before the big spring shows, it also offers handlers a valuable opportunity to practice the new Obedience exercises outside of a formal trial setting.
Classes include Obedience, Rally, Conformation, Junior Showmanship (including PeeWees, 2 – 4 years old), and a Rare Breed Show.  Our Fun Match is the perfect opportunity to "get your feet wet" in the competition ring or to brush up skills for upcoming shows and trials.
Advance entries close April 24th.
Furry Friends 5K
The Kennel Club of Fort Atkinson will once again participate in the Furry Friends 5K Run/Walk in support of the Humane Society of Jefferson County.  Stop and say "hi" at our booth on Saturday morning, May 19, 2018, at the Jefferson County Fair Park.  We'll be ready to provide information about dog training classes and, if you're interested, membership in our club.  We're always happy to just "talk dogs," with fellow enthusiasts, too!
For more information about the FF5K or to register for the run/walk, visit:
https://hsjc-wis.com/event/2018-furry-friends-5k/
Club Meetings
The Kennel Club of Fort Atkinson holds meetings on the first Monday of odd-numbered months, typically at 7:00 p.m.  Exceptions may include the January meeting and when a holiday (such as Labor Day) requires that the meeting be on an alternate date.   Meetings are usually held at the KCFA Training Site (710 Oak Street, Fort Atkinson) with the exception of the January meeting, which includes the Annual Meeting and Banquet.
Members of the public and especially those considering membership are welcome and invited to attend meetings.  For further information or to confirm a meeting date, time or location, call the KCFA at 920-568-0364 and leave a message to receive a return call.
Past Events:
K9 Veterans Day Observance
The 2018 K9 Veterans Day Observance was held Sunday, March 11, from 1:30 – 3:00 p.m., at the American Legion, 201 S Water Street E, in Fort Atkinson.  See the K9 Veterans Day page for more information.
K9 Vets Day Invite March 11 2018
25th Anniversary Celebration
In recognition of KCFA's 25th anniversary, members hosted an informal gathering at Fort Atkinson's Legion Dugout, 201 S Water Street E, on Sunday, October 29, from 12 noon to 3:00 p.m.
Current KCFA students, former students, former members, and KCFA friends and family gathered with the club's founders and current members for refreshments, memories and conversation.
Daily Jefferson County Union article Oct 18 2017
Canine Good Citizen (CGC) Test
The Kennel Club of Fort Atkinson offered the American Kennel Club (AKC) Canine Good Citizen (CGC) test on Saturday, September 30, at 10:00 a.m.  The CGC is a non-competitive test open to all dogs, including purebreds and mixed breeds, and is a prerequisite for many therapy dog certifications.
The AKC's CGC program rewards dogs that have good manners at home and in the community, and successful completion of the 10-step test makes the dog eligible for the American Kennel Club's CGC title.
The CGC test was held at the KCFA training site, 710 Oak Street  (the club's parking lot and entrance are accessible from North Main Street).  The fee for evaluation was $15.00 per dog.   (The $15 testing fee does not include the AKC fee to register the title.)
Click here for more information about the 10 exercises of the CGC test
Click here for the KCFA CGC Test flyer
K9 Veterans Memorial Dedication
The K9 Veterans Memorial was dedicated in Fort Atkinson's McCoy Park (1202 Madison Avenue) on Sunday, June 25, 2017, at 1:30 p.m.   The dedication included special guests, music and refreshments.  Limited seating was provided and parking was available at MATC (827 Banker Road) with a shuttle to the park.  Visit our K9 Veterans Memorial page for more information about the memorial.
Lure Coursing
Jefferson County Dog Park – June 14, 2015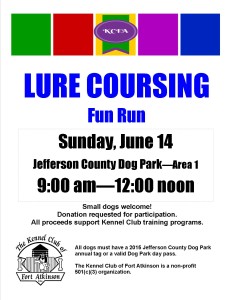 Other Activities
Other club activities have included demonstrations on proper methods and techniques for raising healthy, well behaved dogs; seminars with speakers well known for expertise in their fields, and Photos with Santa events.